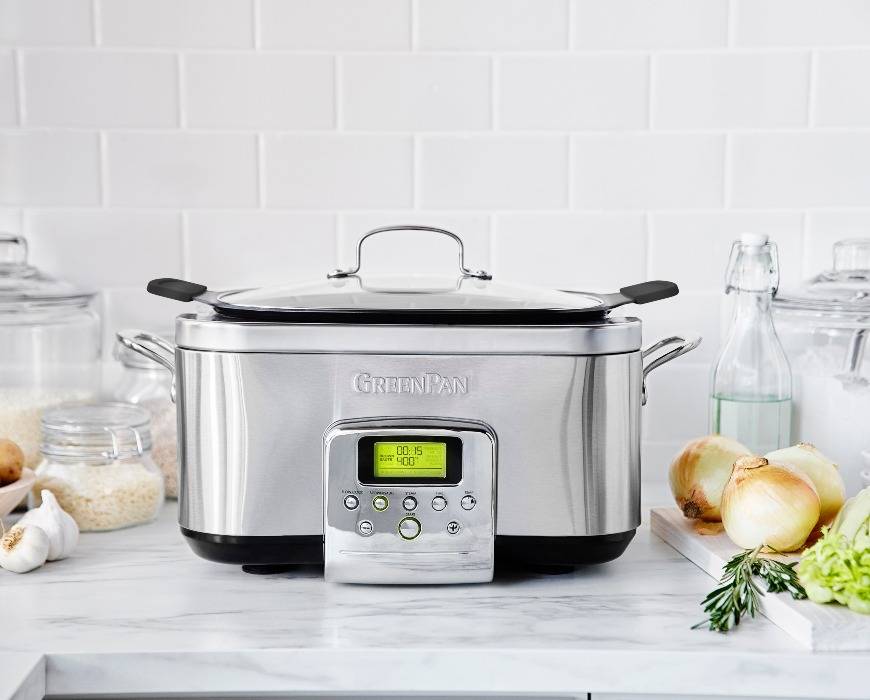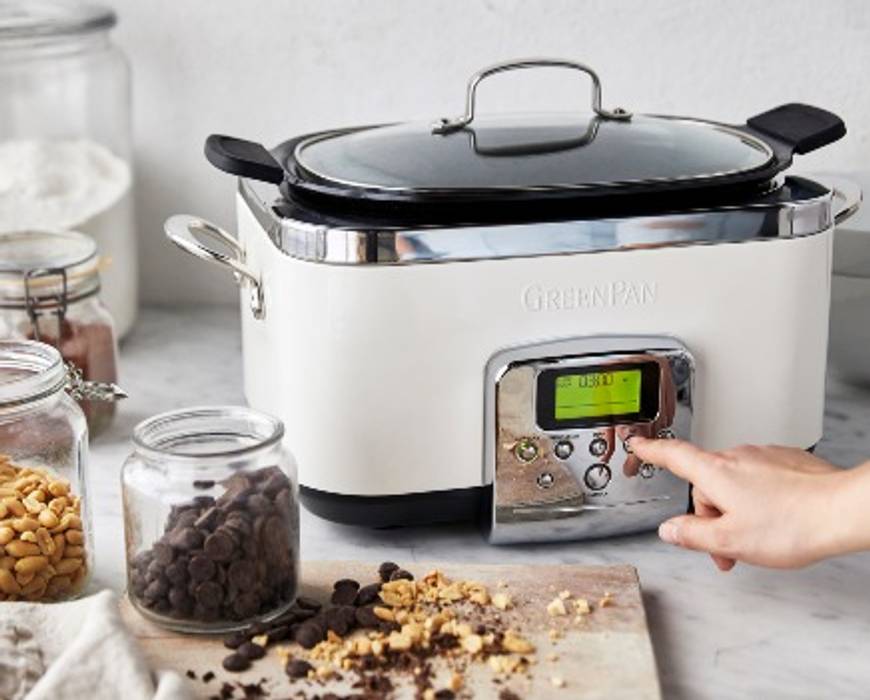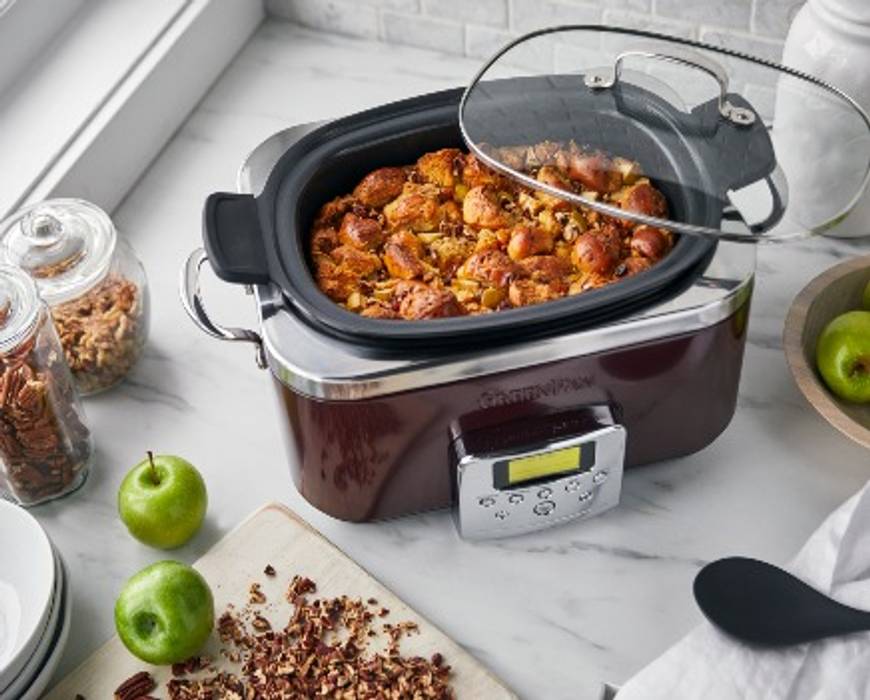 GreenPan Slow Cookers: Slow and Steady Wins the Taste
From working and running errands, to shopping and cooking dinner, there never seems to be enough hours in the day. If you're always on the go, wouldn't coming home to a delicious meal make life easier? The answer is, yes, obviously! Every kitchen needs a hard-working appliance that you can always count on to make that happen.  
From slow cooking, roasting, sautéing, and steaming—our Slow Cooker is an extremely convenient way to make incredible meals. Trying to binge the newest season of RuPaul's Drag Race? Or maybe you're rewatching Girls for the fifth time? Whatever you need to catch up on, our slow cookers give you plenty of time to relax while the rich, complex flavors develop. The quick one-touch presets make it easy to find the setting you want and then walk away. Go about your busy day, spend time with loved ones, or catch up on some rest, all while your meal takes care of itself. Come home to comforting soups and stews, slow cooked chilis, flavorful BBQ pork, and so much more! Our slow cookers are also great for crafting mouthwatering desserts like chocolate peanut butter brownies, sweet apple bread pudding and chocolate hazelnut banana bread. With just the touch of a button, you can watch our Slow Cooker do all the work while you reap the benefits. Don't worry we won't tell.
Check out all our recipes for some delicious intel on what to make in our Slow Cooker.
Our Slow Cookers are phenomenal choices for someone who's new to cooking, planning a feast, or just in a bind. Featuring our advanced technology, the diamond-infused ceramic nonstick is specially designed to stay strong and perform like new for years to come. Our Thermolon™ Volt ceramic nonstick coating is also manufactured without PFAS, PFOA, lead, or cadmium so you can plug in to healthier, worry-free meals. Easily wipe the removable pot clean thanks to our high-performance nonstick, or even place it in the dishwasher for those tougher messes. From heat up to cleanup, our Slow Cookers make cooking easier every step of the way.  
From breakfast to dessert and everything in between, our Slow Cooker is ready for any meal, on any countertop. The removable pot is hard anodized for maximum versatility and extra durability. Cooking for a crowd? The generous 6-quart capacity gives you ample room to craft large, family-sized meals (and then some). For some cooks, carrying or maneuvering a large pot can be nerve-racking. Luckily, the silicone side handles on our slow cooker gives you a safe and secure grip while you transfer.  
When we say you can craft large meals all in one place, we mean it. The one-step browning feature lets you brown your meat or veggies right in the pot, so you don't even have to turn the stove on. In fact, our Slow Cooker was named Snappy Living's Best Slow Cooker with a Browning Feature due to the versatility of the 6-quart pot. No more dirtying multiple pots and pans, our Slow Cooker has space for it all.  
The versatility continues when you take advantage of the stainless steel steamer that also comes with our slow cooker. From steamed dumplings and bao, to meal prepping fish or chicken, the steamer is extremely easy to use and delivers amazing results. The steamer is also a simple way to add veggies to your dish like steamed broccoli, asparagus, cauliflower, and more.  
As your meal comes together you can watch all the action without uncovering a thing. The tempered glass lid keeps your creation secure, so heat, moisture, and flavor stay locked in. The slow cooker may be doing all the work, but you're supervising (which is still important don't worry).  


Our Slow Cookers are truly the all-around kitchen hero – just ask the lab pros and field experts at Good Housekeeping. After cooking batches of chicken soup and beef stew, Good Housekeeping named our Premiere Slow Cooker the Best Nonstick Slow Cooker of 2023. 


The Good Housekeeping Institute Kitchen Appliances and Innovation Lab assessed the slow cooker's ability to maintain both high and low temperatures, considered how reduced liquids were over time, whether or not you can brown foods right in the Slow Cooker's pot, and how even the results were. 


Good Housekeeping noted that they were excited to cook with our Premiere Slow Cooker before they even used it, so when it came time to craft a delicious dish, we were honored to meet their high expectations.  


"The simple interface offers settings for slow cook, brown/sauté and steam, which is a less-common setting (and the cooker comes with a steaming rack)," Good Housekeeping reported.  


When it came time to wash our slow cooker, our nonstick coating saved the day once again. "The pot has the same nonstick coating, and we felt it was very easy to hand wash—and it's also dishwasher safe. We also like that the base has handles, as does the pot insert," Good Housekeeping said.  


However busy or hectic or busy your day might be, you deserve to come home to a beautiful meal. With our Slow Cookers, you'll spend less time in the kitchen and more time enjoying your creations.  
Featured Product
Premiere 6-Quart Slow Cooker | Stainless Steel
With our advanced slow cooker, you can sear meat and veggies in the pot, then go low and slow to finish the job. Take your time while cooking, then clean up quickly with Thermolon™ Volt, a healthy, PFAS-free ceramic nonstick...