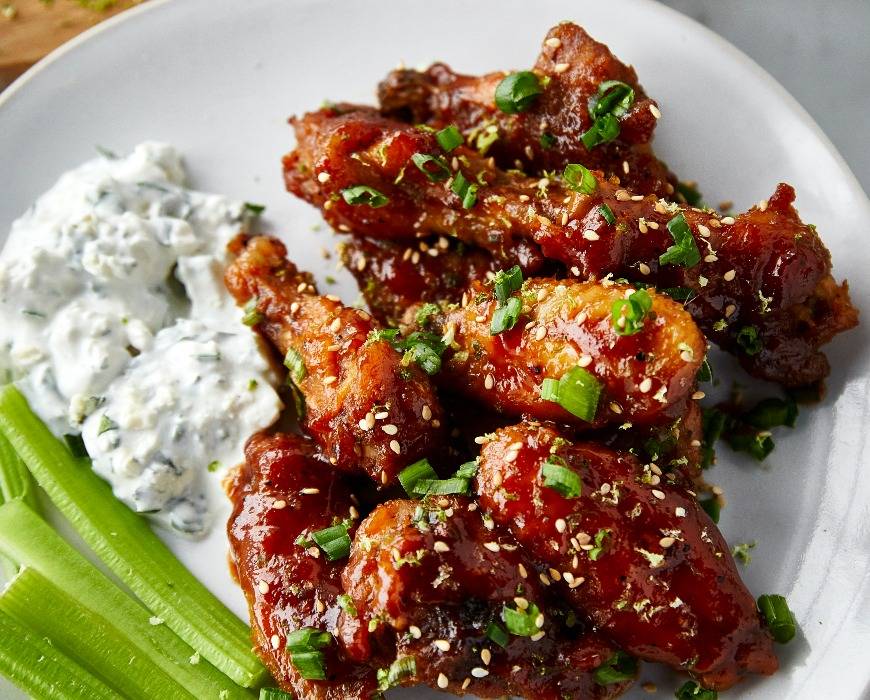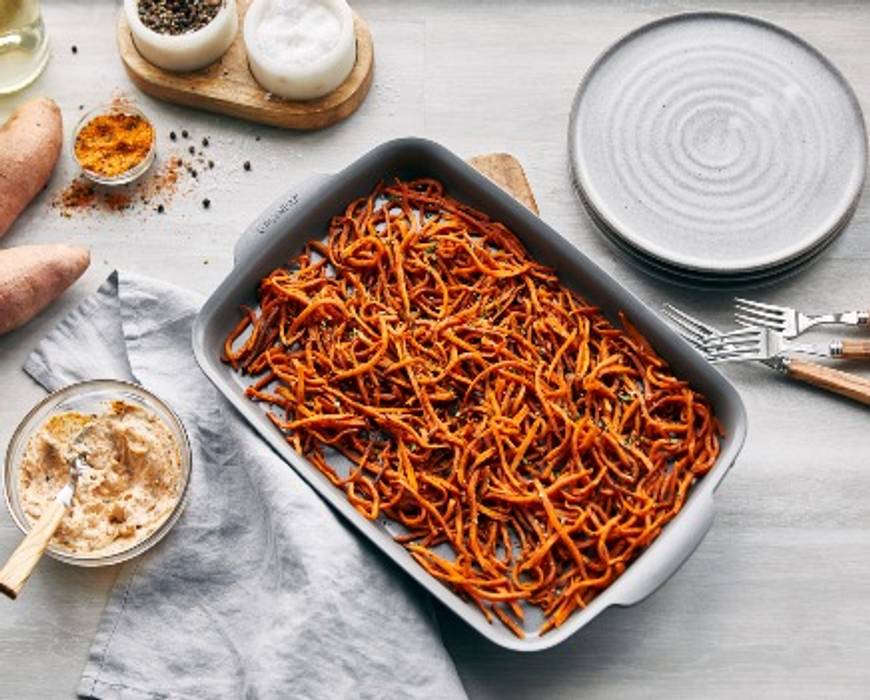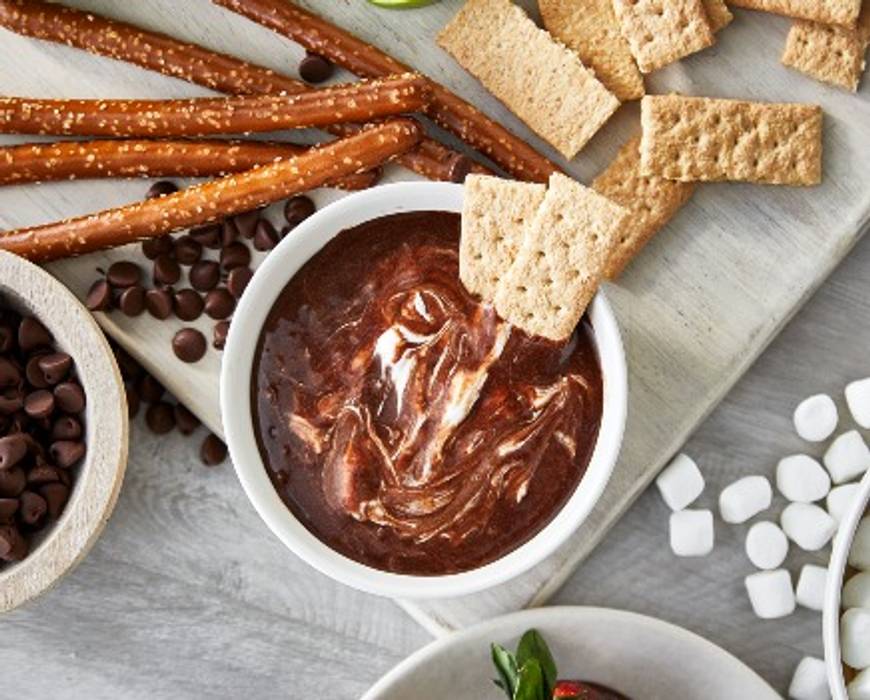 Our Favorite 4th of July Recipes for an All-American Menu
Sweet and heat comes together in these incredibly delicious chicken wings! Slow cooked to perfection after being perfectly seared, this recipe is one you won't believe was made entirely in a slow cooker! 
2. Romaine Salad with Shrimp and Green Goddess Dressing
Our crisp romaine salad features watermelon radishes, sliced shallots, and pan-seared shrimp topped with freshly shaved Parmesan cheese and homemade green goddess dressing. 
3. Cherry Tomato and Mozzarella Salad
Perfect for picnics and backyard gatherings, we've paired sautéed cherry tomatoes and fresh mozzarella for a quick and easy summer salad. Great served warm or cold!
Our portobello burgers are so packed with umami flavor, no one will ever miss the meat! We've added south-of-the-border flair with refried black beans, pepper Jack cheese, and fajita-style grilled peppers and onions.
The classic s'more meets party dip meets Mexican hot chocolate in this quick and easy crowd pleaser! 
6. Crab Cakes with Remoulade Sauce and Lemon Arugula Salad
Perfect as a party appetizer, our griddled cakes of deliciousness feature more crab and less filler. Served atop a lightly dressed arugula salad, along with a dollop of homemade remoulade, they're destined to become a go-to favorite.
Just when you thought corn on the cob couldn't get any better—our blend of butter, pepper jack cheese, and horseradish takes everybody's favorite summertime side to new depths of flavor.
8. Baked Shoestring Sweet Potato Fries
Who needs a deep fryer when you can create deliciously crisp shoestring fries right in the oven? Our spicy sweet potato strings offer a healthy-ish way to satisfy those hangry carb cravings. You're welcome!
One of our favorite ways to showcase peak-of-season strawberries? Homemade ice cream! Dish up scoops of this frozen pink confection and prepare to amaze everyone, especially yourself. 
10. Gourmet Burgers with Caramelized Mushrooms and Onions
Bring the backyard party indoors, any time of year. Plus, create toppings you could never make on a conventional grill—hello, caramelized mushrooms and onions.
11. Skillet Sweet & Sour Cherry Pie
Our favorite summertime dessert celebrates plump sweet and sour cherries at the peak of ripeness, accented with a hint of almond extract and ground cinnamon.
12. Lobster Rolls with Homemade Potato Chips
Send your tastebuds on a trip to the New England coast with our classic lobster rolls on buttery brioche buns. Serve them up with incredibly crispy homemade chips that beat anything you can buy in a bag.
13. Extra Cheesy Mac and Cheese
Two kinds of cheese, and plenty of it, paired with macaroni in a creamy béchamel sauce, topped with crispy breadcrumbs—this may be our all-time favorite comfort food.
Discover how easy (and delicious!) it can be to up your salad game with homemade croutons and from-scratch dressing. 
15. Skillet Sliders
Serve our crowd-pleasing mini burgers with a DIY toppings bar so everyone can customize their flavors—and have plenty of room on the plate for other tasty holiday appetizers.
16. Grilled Cornbread and Strawberry Shortcakes
Sugar griddled cornbread along with perfectly grilled strawberries brings this version of the classic strawberry shortcake to a whole other level! 
17. New England Style Fried Clams
A classic NE summertime staple, you can't drive up and down the coast without seeing (and stopping at!) a seaside clam shack. This is our version, true to original, but with just the slightest hint of smoked paprika.
An elevated, but easy to make take on the summer staple of steamed corn. Cooked slowly in an aromatic combination of leeks, shallots, herbs and wine, this will be your new go to summer side!
19. Chocolate Peanut Butter Whoopie Pies
A staple of the northeast states, found at almost any roadside market, Whoopie Pies are the perfect treat for adults and kids alike. While they can come in any flavor combination, a chocolate cake filled with peanut butter frosting is one of the favorites that can't be missed!
Featured Product
Elite 6-Quart Slow Cooker | Black
With our advanced slow cooker, you can sear meat and veggies in the pot, then go low and slow to finish the job. Take your time while cooking, then clean up quickly with Thermolon™ Volt, a healthy, PFAS-free ceramic nonstick...